Part 2 – The WHR Completed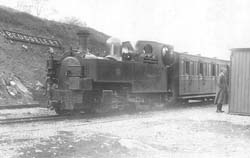 'Russell' at Beddgelert - 1923
(Peter Johnson Collection)
In 1914 the local authorities promoted a Light Railway Order to take over the PBSSR and NWNGR and complete the unfinished railway. In 1920 the application was reactivated by the Dolgarrog-based Aluminium Corporation, which had acquired control of the PBSSR and the NWNGR, and an order was made to create the Welsh Highland Railway (WHR) in 1922. The WHR was mainly funded by loans from the Ministry of Transport and the local authorities, however, these loans were to lead to the WHR's downfall because it could never earn sufficient to pay the interest.
The WHR let the contract for construction to McAlpine & Sons to refurbish the NWNGR and Croesor Tramway and construct the 'missing' line between Rhyd Ddu and Croesor Junction, thus completing the link between Dinas and Portmadoc. The FR built the connection railway in Portmadoc and a new joint station there. The NWNGR section was reopened in 1922 and the line was opened throughout in 1923.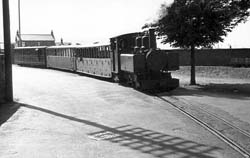 Baldwin 590 crossing Portmadoc High Street with a train for Beddgelert, 9th August 1935
(H.F.Wheeler, FR Archives)
The two remaining original NWNGR locomotives (Russell and single Fairlie Moel Tryfan) were supplemented, in 1923, by an ex-War Department Baldwin 4-6-0T No. 590. However, there were still shortages of equipment and most of the FR's England locomotives and carriages saw use on the line.
Continue to Part 3 - "Closure"....